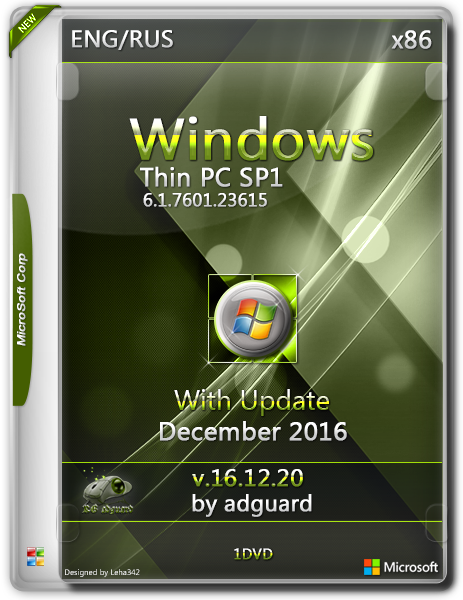 Windows Thin PC (WinTPC) is an upcoming Microsoft® Software Assurance (SA) benefit that provides a low footprint, locked down version of Windows 7 that enables organizations to repurpose existing PCs as thin clients, thereby reducing the need for new thin client hardware. And since these PCs retain their existing SA coverage, they do not need any additional Windows Virtual Desktop Access (VDA) licensing for VDI. WinTPC offers an excellent thin client experience by locking down the PC through write filters, while still providing users with a superior remote desktop experience through RemoteFXTM support. IT can deploy and manage WinTPC images
to multiple PCs using System Center Configuration Manager (SCCM), and push updates to these PCs using Windows Update or Windows Server® Update Services (WSUS). Additionally, WinTPC leverages Windows Enterprise features such as BitLocker® and AppLockerTM
to further secure the endpoint.
What kind of hardware can I run WinTPC on?
WinTPC is a locked down version of Windows 7, and hence, will be able to run on any device capable of running Windows 7. The recommended specifications for running Windows Thin PC are:
• 1 GHz or faster 32-bit (x86) processor
• 1 GB RAM, 16 GB available hard disk space
• DirectX 9 graphics device with Windows Display Driver Manager (WDDM) 1.0 or later version driver
• Bootable DVD-ROM drive

Can I install WinTPC on laptops, as well?
Yes, WinTPC leverages the extensive Windows 7 device driver framework, and has built-in support for wireless NICs. As long as the laptops have the configuration mentioned above, it will support WinTPC. However, the same use rights apply to WinTPC on a laptop as on a PC, and the remote desktop experience over a wireless network may not be as good as on a wired connection.

Can I run applications on WinTPC?
Yes, you can run applications that fall into one of the following categories:
• Security
• Management
• Terminal emulation
• Remote Desktop and similar technologies • Web browser
• Media player
• Instant messaging client
• Document viewers
• .NET Framework and Java Virtual Machine
However, you cannot run any productivity applications, such as Microsoft Office or similar applications.

Can I run WinTPC in a virtual machine?
WinTPC has been designed to help customers repurpose existing PCs as thin clients. Since thin client OS's are not designed for or supported in a virtual machine (VM), WinTPC is not supported in a VM.
What languages does WinTPC support?
WinTPC supports only English at Release to Manufacturing (RTM). However, most international peripherals (such as keyboards) are supported. Even though WinTPC is not designed to run applications locally, users get localized experiences by remoting into a full Windows desktop running another language.
WinTPC can help turn your existing PCs into thin clients through the following features:
Small footprint: WinTPC images are smaller than Windows 7 images, and hence have a lower attack surface.
Write filters: WinTPC has both file-based and enhanced write filters. Write filters can be enabled to prevent users and applications from writing to disk, and hence ensure that the OS returns to a pristine image on every reboot.
BitLocker:WinTPCdiskdrivesandflashstoragecanbeencrypted using BitLocker and BitLocker To GoTM technology, thereby ensuring that any data stored on disk is secure.
AppLocker: IT can prevent unauthorized applications form running on WinTPC.
Windows Thin PC SP1 with Update [7601.23615] (x86) adguard (v16.12.20) [Eng/Rus]
Description:
The assembly is made on the basis of the original image from MSDN. Was integrated language pack: Russian, a small set of components and upgrades to 13 December 2016. It is possible to set both out of the BIOS, and out of the system.
Checksums:
CRC-32: 70f12994
MD4: 248c69af0ef57e35296ff175ecc07c3b
MD5: 1c33aee782affe2c9340e6fd628b2a08
SHA-1: 55f814b7dfea305bed60e02eba59d6ea89bd8741
Composition of assembly:
the Windows Thin the PC (32 bit-) – English
the Windows Thin the PC (32-bit) – Russian
Main features:
– Integrated update on December 13, 2016;
– Integrated Language Pack: Russian;
– Integrated small set of components for high-quality work of the OS (including NetFx 3.0-3.5);
– Cleaned folder: the WinSxS \ ManifestCache:
– Systems were not in audit mode.
All changes made by standard Microsoft tools.