Revo Uninstaller is an uninstaller program for Windows, it's available in 3 edition: free, Pro and Portable Pro. Revo Uninstaller is a much faster and more powerful alternative to "Windows Programs and Features (Add or Remove Programs)" applet!
It has very powerful features to uninstall and remove programs without leaving any leftovers. The free version does a great job removing the unused app, it also scans for leftovers after the standard uninstall and clean them. Furthermore, there are 8 additional cleaning tools included in the free one. Users also get Free Professional Technical Support from developer.
The portable version of Revo Uninstaller Pro, doesn't require installation and works on removable devices like USB sticks and external drives. It is licensed per user and is the best choice for technicians or hobbyist that have few computers at home or help their friends maintaining their computers in good shape.
With its advanced and fast algorithms, Revo Uninstaller Pro analyzes an application's data before uninstall and scans for remnants after the uninstall of a program. After the program's regular uninstaller runs, you can remove additional unnecessary files, folders, registry keys and values that are usually left over on your computer. Using the Quick/Multiple Uninstall command you can automate the uninstall process and uninstall few programs in a row.
Revo Uninstaller Pro creates backups of removed registry keys, values, files and folders. Backup Manager is the main part of that system. It helps you to manage backup information stored by Revo Uninstaller Pro after deletion registry entries, files and folders.
WHAT'S NEW IN REVO UNINSTALLER 
PRO 4
GENERAL
Added – New Module – Windows Apps Manager to uninstall Windows Apps
Added – New Module – Browser Extensions to remove popular browsers' extensions
Added – New Module – History Cleaner – combining Windows Cleaner , Office Cleaner, Browsers Cleaner
Added – Command "Uninstall with Revo Uninstaller Pro" on context menu of shortcuts
Added – New more reliable Registration/Activation algorithm of the program based on time update subscription
Added – Possibility to deactivate license and transfer it to another computer
Added – New default visual theme
Improved – User Interface for faster and easier access to all the functionality of Revo Uninstaller Pro
Improved high DPI support
Improved – Many minor and user interface improvements and optimizations
Updated existing Visual Themes
Show trial reminder screen on close of Revo Uninstaller Pro during Trial period
Windows XP is no longer supported operating system
UNINSTALLER – ALL PROGRAMS
Added – Back button to the Uninstall Wizard
Added – Possibility to continue the uninstall of a program if it had been interrupted by a computer restart
Improved – Quick Uninstall supports silent uninstall of the built-in uninstaller where applicable
Improved – Logs matching during uninstall
Improved – Automatic refresh of installed programs to get more accurate data immediately
Improved – Scanning for leftovers algorithms
UNINSTALLER – TRACED PROGRAMS
Added – Option to Exclude files and folders from the tracing process
Added – Possibility to merge logs
AUTORUN MANAGER
Added – "Search" field to search through listed items
Added – Listing and manage of Windows Tasks
Added – "Refresh" command
JUNK FILES CLEANER
Added – Include list that lists the content of included folders as junk
HISTORY CLEANER
Improved – Browser Cleaner shows only installed browsers
WINDOWS TOOLS
Added – Disk Cleanup Windows tool
Added – Resource Monitor Windows tool
EVIDENCE REMOVER
Added – Pause/Resume button
Added – Possibility to be minimized while working
UNRECOVERABLE DELETE
Added – Pause/Resume button
Added – Possibility to be minimized while working
Added – Option to clear single item from the list
Revo Uninstaller Pro is fully compatible with 32-bit and 64-bit versions of Windows XP, Windows Vista, Windows 7, Windows 8, Windows 10, and Windows Server.
Revo Uninstaller Pro supports the following languages: Albanian, Arabic, Armenian, Bulgarian, Chinese (Simplified, Traditional), Croatian, Czech, Danish, Dutch, English, Estonian, Finnish, French, German, Hebrew, Hellenic, Hungarian, Indonesian, Italian, Japanese, Korean, Kurdish, Macedonian, Polish, Portuguese, Portuguese-Brazil, Romanian, Russian, Serbian, Slovak, Slovenian, Spanish, Swedish, Turkish, Ukrainian, Vietnamese
Changes in REVO UNINSTALLER PRO VERSION 4.0.5 (Dec 11, 2018):
Added – Possibility to transfer all traced logs between setup and portable version.
Added – Possibility to backup and restore all traced logs
Added – Browser Extensions now detects Opera extensions
Added – Export List feature to the context menu of Browser Extensions and Windows Apps modules
Fixed Minor bugs
Updated language files
Screenshot: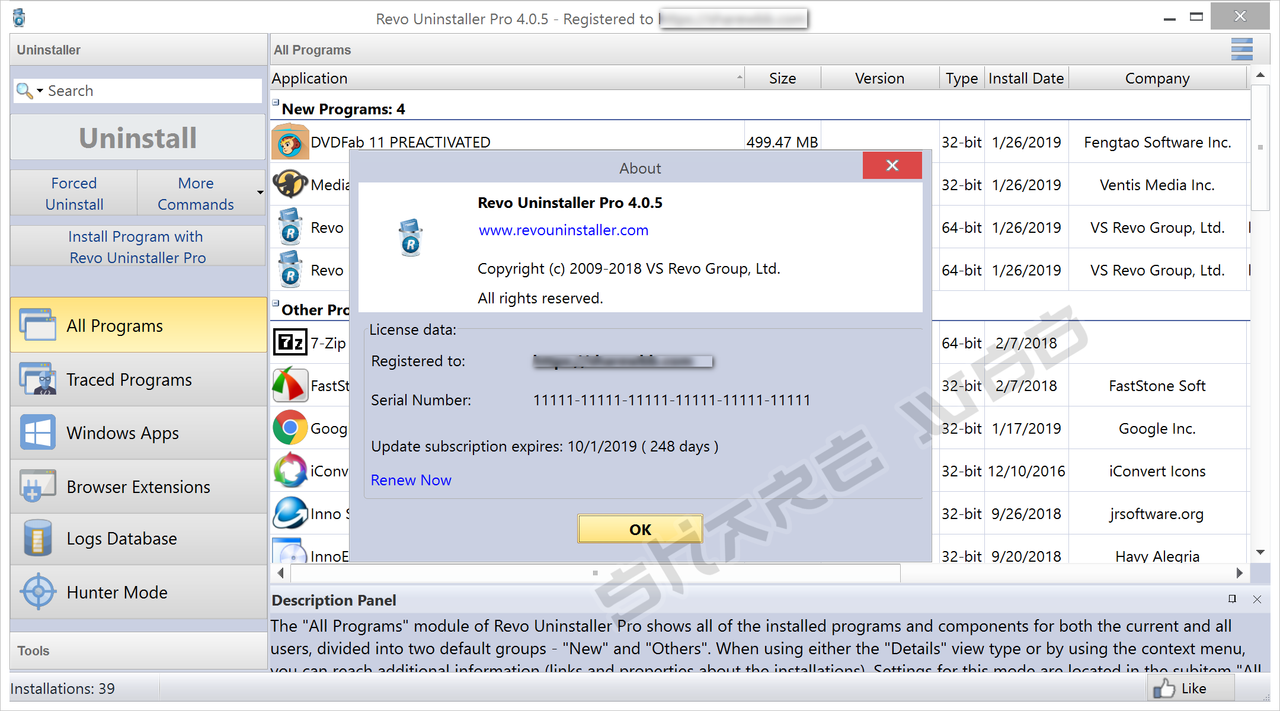 Homepage – http://www.revouninstaller.com
BUY NOW Revo Uninstaller Pro LifeTime License – 50% OFF
Revo Uninstaller Pro 4.0.5 PreActivated by sHaRe Working with XP x86
https://rapidgator.net/file/53247fd4ab90dd8c0da22976fe852a8c/sHaRewbb_revopre405.zip
http://nitroflare.com/view/049D133BEF36E40/sHaRewbb_revopre405.zip
https://www.keeplinks.co/p69/5c4c3b2f96ba3
Revo Uninstaller Pro 4.0.5 – Portable Working with XP x86
https://rapidgator.net/file/b8bca5ece709fcda0ee0ff92277aa4e5/sHaRewbb_revoport40.zip
http://nitroflare.com/view/71C7B680F6AE613/sHaRewbb_revoport40.zip
https://www.keeplinks.co/p69/5c4c3b23ed07f
Revo Uninstaller Pro 4.0.5 Installer with fix
https://rapidgator.net/file/769da01b1edbd48d879534050a2f6ef7/sHaRewbb_revopro405.zip
http://nitroflare.com/view/89AFD3C1846C1FF/sHaRewbb_revopro405.zip
https://www.keeplinks.co/p69/5c4c3b11dab4e