GifCam is free and small app for easy and fun animated gif making. GifCam has a nice idea where the app works like a camera that stays on top of all windows so you can move it and resize it to record your desired area.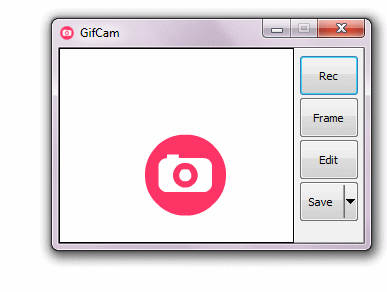 When you're ready, click "Rec" to start recording or click "Frame" to record a single frame.
GifCam is practical
While recording whenever GifCam finds the previous frame is same as the new recorded one it automatically adds delays (milliseconds the frame stays on screen) instead of adding a new frame and increasing gif size.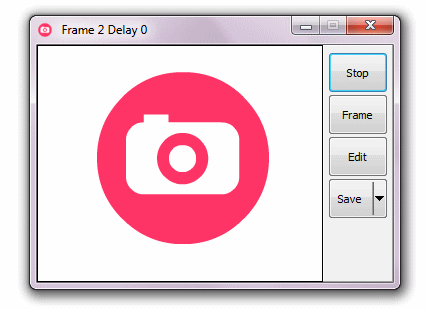 Add to this GifCam doesn't draw the whole frame it draws greenscreen (transparent pixels) by comparing the alternately frames and just draw the different pixels, that saves a lot of kilobytes.
Editing
GifCam comes with simple and powerful frames editing,
To delete frames/add or remove delays, click on "Edit" button then right click on the frame you want to edit :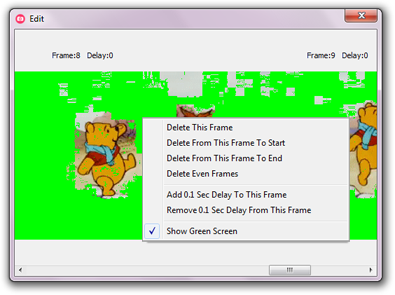 Changes in Version 5.0 (27/May/2015)
Customization:
Customization Window lets you save and customize:
– Three FPS options that appears on the "Rec" split button menu.
– Option for storing temporary frame on hard disk or memory.
– Customization GifCam memory usage limit (default is 1 GB).
– Setting GifCam window size.
– Option for always capturing mouse cursor.
Keep in mind :
– Higher fps means bigger gif file size.
– Using memory option is faster and more performance than using hard disk option.
– When increasing memory usage limit, make sure you have enough memory to use, if you haven't your system may slow dawn and may crush.
– And finally it is recommended to use the default settings.
Profile:
Profile window present frames size with bar chart and gives profile info of each frame:
the size of the frame in bytes, number of colors, and percentage of green screen.
Profile window is resizable, resize it for bigger bar chart.
Other fixes and changes:
– Drawing green screen and resizing frames are working well together now.
– Fixing the gif file size in the preview window.
– When saving, "Gif.gif" is the default file name.
Homepage – http://blog.bahraniapps.com/gifcam/